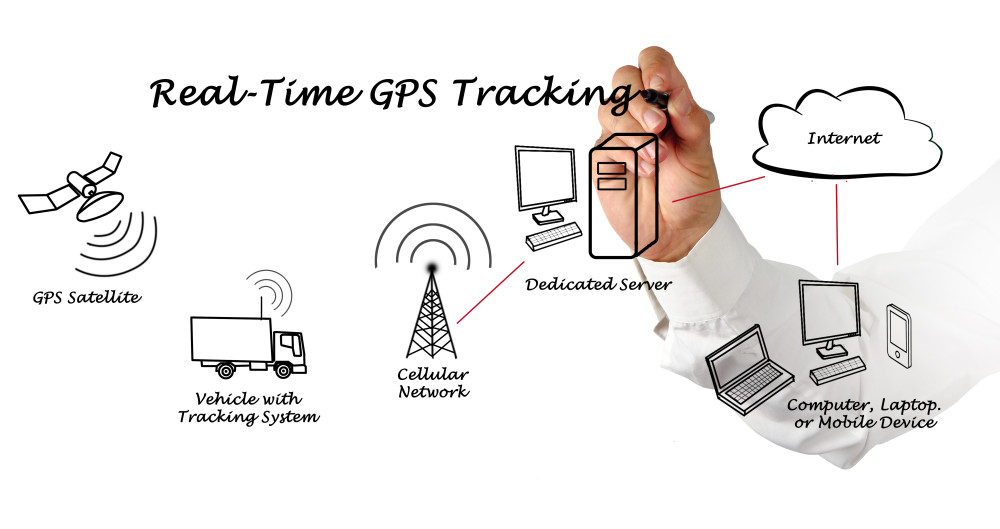 GPS Tracking Solution
Track and monitor the location of your goods and valuable assets (cars, trucks,vans…). Get instant information on their location, notifications and alerts based on predefined events (motion, over speed, exit from a specified boundary…)
Our tracking solution includes a device  with an embedded GPS  module for the location data and a GSM module for the transmission of device information at regular intervals. This info is received on the server side and reprocessed before being displayed on reports, dashboards, or maps
The reports generally include the position of the asset in real time, usage (trip details with start and stop time and position, Amount of Km, ) driver performance (average speed…, amount of trips, total amount of km  traveled…) or a myriad of custom reports on which various analysis could be carried (cross correlation, forecast etc…)
The system can be configured to generated specific alerts and notifications to authorized recipients. These notifications are triggered by specific events like over speed, car theft,  car entrance into non authorized zones…
Our solution works for the following applications:
Our comprehensive off the shelf tracking solution allows you to Track and monitor any object (vehicle, person, mobile, bike etc.) in real-time and view from a map. Get instant alerts on drivers behavior and stopovers, fuel consumption, speeding and traveled distance.  Save on operating costs and ensure security of your assets.
Your Benefits

Save on fuel consumption and maintenance cost of your vehicles through improved driver behavior.

Get the position of your assets in real time. Detect any unexpected  or hazardous behavior and react promptly,

Ensure Safety and Security of your valuable assets. Track drivers behavior. Entry and exit from specific zones. React faster in case of any incident.

Have secured access to your assets 24/7 X 365 . Anytime and Anywhere with the device of your choice. Get historical data and carry out any analysis for what ever purpose.
Screenshots